Bravera Bank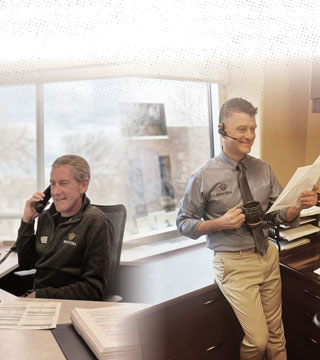 Russ Schank and Derek Binstock
Dickinson Investment Portfolio Manager Russ Schank is the Mr. Miyagi to Bismarck Investment Officer Derek Binstock's Karate Kid, teaching him all about finance, economics, politics... and the list goes on. But who's the better cook that keeps things in line?
How long have you worked together?
Derek: Almost 1,000 days, I believe we are somewhere in the 980's.
Russ: Since Derek is a certified analyst I'll assume he's right so I won't check his math!
Who is the  better cook?
Derek: Russ will downplay it, he makes some mean ribs and pork loin!
Russ: Derek. Not even close. I'm not in his league and I ask for advice all the time!
Which of you keeps everything in line?
Derek: That would be Russ. He knows the answer to the problem before I even ask.
Russ: Agree, its me!
What have you learned from each other?
Derek: I've learned finance, economics, politics, global markets, risk and reward, etc. from Russ. For me it is pretty one-sided. 


Russ: Being involved with investments and markets daily, we see different things and discuss what we see all the time. Also, see the better cook question!

How does working together help you to better serve customers?
Derek: I receive education from the "Schank School of Finance" all day long. Every new lesson is a solution to a future customer question or issue that I will receive.
Products and services offered through Bravera Wealth are: * Not a deposit * Not FDIC Insured * Not Insured by any federal government agency * Not financial institution guaranteed and may be subject to investment risk, including loss of principal amount invested.