Bravera Bank
Define your payment strategy and set your business up for success.
With our seamless and innovative approach to payments, you can expect unparalleled efficiency and convenience, making managing your payables a breeze. Let Bravera be your partner in progress, providing the tools and business expertise you need to forge on. 
Bravera's ACH credit service lets your business initiate credit entries designated for accounts at other financial institutions. This solution is largely used for direct payroll deposit, vendor payments, tax payments, interest payments and annuity payments. 
Create and send a great-looking invoice in minutes. Delight your customers with easy online payment options. You'll be able to see who paid their invoice and who is past due.
You can conveniently pay bills through your computer or mobile device, avoiding late fees by scheduling automatic recurring payments and saving both time and money on postage.
The FORGE Business credit card line are Visa cards that offer competitive rates, while giving you easy access to your account and local servicing.
Bravera Bank is committed to the success of your business from start-up to expansion. We have the resources to help you make the most of every opportunity.
Optimize efficiency for your business with Bravera Bank's cash management solutions. From transfers and deposits to payments and payroll, Bravera provides a number of time-saving conveniences.
Backed by the support of a team of Digital Success Managers, Bravera offers payroll processing solutions through our Cash Management Services. 
Transfer money with ease from your Bravera account to an account at another financial institution, typically making the funds available on the same business day. 
To initiate a wire transfer, visit a branch or contact your Digital Success Manager. 
Treasury Services
From monitoring your debit and credit cards and using your phone to pay at stores, Bravera offers solutions to make life easy and keep your finances secure.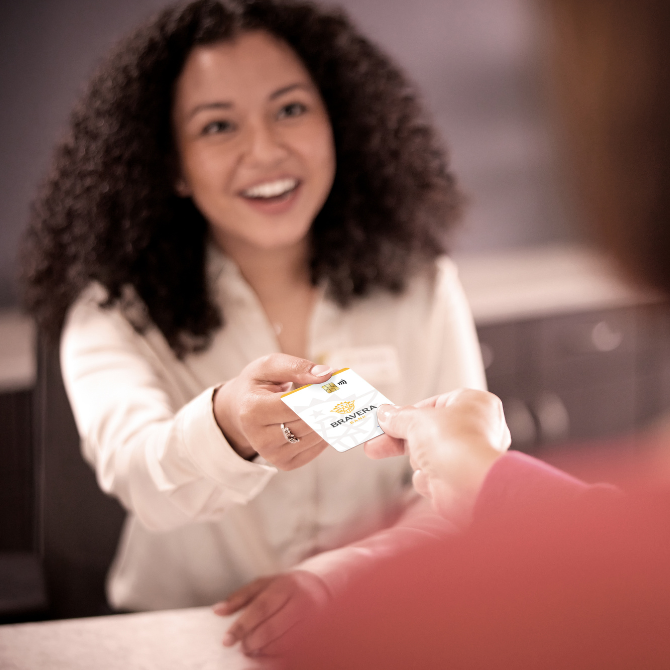 Questions? We're here to help.
Our Digital Success Team works closely with you to develop tailored solutions that enhance operational efficiencies, automate key functions, and optimize profitability.