Bravera Bank
Protect your business from the ever-evolving threat of fraud with Bravera Bank's comprehensive suite of business fraud prevention services. Whether it's detecting fraudulent activities, implementing robust authentication protocols, or providing ongoing monitoring and support, Bravera Bank is dedicated to ensuring the security and integrity of your business operations. Trust us to be your partner in combating fraud and preserving the financial well-being of your enterprise.
Take a proactive approach to mitigate the risk of fraudulent losses by implementing preventative measures rather than reacting after the occurrence of fraud. By staying ahead of potential threats, you can safeguard your business's financial well-being and minimize the impact of fraudulent activities.
Following each check production run, it is necessary for you to submit an "Issue File" to Bravera, containing a comprehensive record of checks issued from your account. As a result, we provide you with convenient online access to a "Suspects Report" that encompasses checks presented for payment on the preceding business day. The report identifies suspect items based on discrepancies when comparing the checks against your issue file or meeting specific criteria you have set, such as stale dates, amounts exceeding a specified threshold, or the optional service of scrutinizing payee name inconsistencies.
Similar to Positive Pay, Automated Clearing House (ACH) Blocks and Filters equips you with the necessary tools to proactively safeguard your account against unauthorized transactions. With ACH Blocks and Filters, you gain enhanced control and security measures that help prevent any unauthorized or fraudulent activities from occurring on your account. 
Multi-user Online Banking
In order to safeguard against internal fraud, Bravera can help establish dual control processes for online fund transfers. By opting for this method, all users granted online access to the business account are mandated to possess a token for authentication purposes. This additional layer of security ensures that only authorized individuals can access and initiate fund transfers, reducing the risk of fraudulent activities within the organization.
Digital Solutions
From monitoring your debit and credit cards and using your phone to pay at stores, Bravera offers solutions to make life easy and keep your finances secure.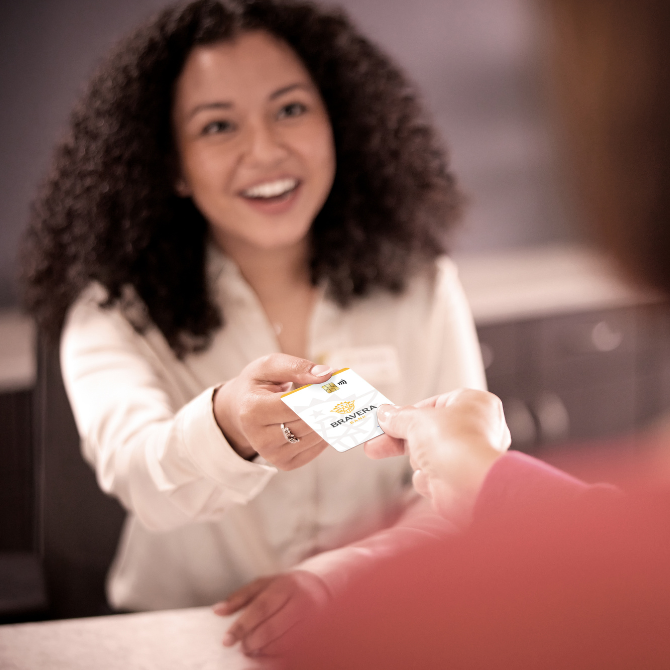 Questions? We're here to help.
Our Digital Success Team works closely with you to develop tailored solutions that enhance operational efficiencies, automate key functions, and optimize profitability.