Bravera Bank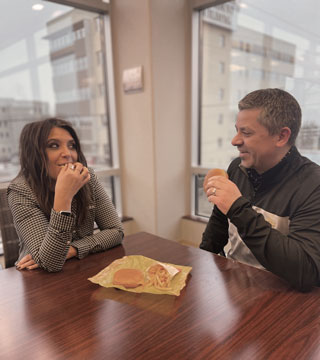 LeAnne Westgard and Blake Hanson
A burger and fries are the perfect team, much like Bismarck Mortgage Loan Officer LeAnne Westgard and Bismarck Insurance Advisor Blake Hanson. Friends and coworkers, this duo has worked together for more than a decade. 
How long have you worked together?
Ten years.
How does working together help you to better serve your customers? 
Blake: We can be that one stop shop so to speak. The Bravera team can handle all of your needs, from banking, insurance and wealth management.
LeAnne: I have been able to help Blake's customers refinance their mortgages and help them get better rates. In turn, when I have a borrower purchasing a new home or refinancing their loan, I always recommend they speak to Blake to get a quote on their homeowner's insurance. Nine times out of ten, my borrowers are amazed at what Blake is able to do for them.
Who has more shoes in their closet?
Blake: Probably me...LOL!
LeAnne: Definitely Blake. I've seen his garage. He has indoor-only shoes, outdoor shoes...
What have you learned from each other?
Blake: LeAnne has taught me how the home buying process works and how having a great banker can make a word of difference!
LeAnne: I've learned there is more to insurance than just getting the lowest annual premium possible. 
What is the best part about your job? 
Blake: The people I get to meet and the relationships that I have built with clients and coworkers. 
LeAnne: Some of my greatest friendships are with my coworkers. Blake's wife happens to be one of my best friends! I've also met so many wonderful people while sitting across the desk from them. Most of the time, I find we "talk business" for 15 minutes and the rest of our time is spent just visiting. It's when I get to know people the best. 
If you were to buy each other a gift, what would it be? 
Blake: A family vacation to somewhere tropical!
LeAnne: During his time away from the office, he makes sure to spend time with his family. Because I know his second love is golf, I'd have to say I'd buy him a new set of golf clubs. If we're being really generous, it would be a once in a lifetime golf trip. He's worth it.
Bravera Bank is Member FDIC and Equal Housing Lender.
Bravera Insurance is an equal opportunity provider. Products and services offered through Bravera Insurance are: * Not a deposit * Not FDIC insured * Not insured by any federal government agency * Not financial institution guaranteed