Bravera Bank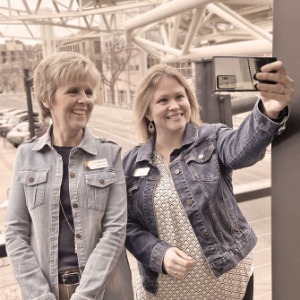 Natalie Pigg and Jodi Haddick 
Thelma and Louise have nothing on Billings Mortgage Bankers Natalie Pigg and Jodi Haddick! Building trust and relationships over the past seven years, they've become a dynamic home loan team. 
How long have you worked together?
Jodi: On and off again for seven years.
Natalie: We've worked in the real estate industry together for over seven years.
What do you do for fun at work?
Jodi: Our days get busy pretty quickly! We have fun getting groups together for presentations and trainings, as well as getting our branch involved in community events in downtown Billings.
What makes your partnership strong?
Jodi: Honesty, similar values and the willingness to learn and grow. Natalie has a plethora of knowledge that I do my best to sponge up.
Natalie: Reliability, trust, honesty and a similar vision for the future.
If you were to buy each other a gift, what would it be?
Jodi: If I had unlimited cash, I would get her a trip to Mexico. She also loves the MSU Cats and snowmen!
Natalie: A new car - one that's bigger for her growing boys and puppy. They travel frequently to visit family. 
What do you enjoy most about your jobs?
Jodi: I love building relationships with people and helping them with one of the largest investments they will ever make. There is not much that compares with the excitement rolling off of a first time homebuyer at the closing table!
Natalie: Creating relationships that turn in to friendships and receiving referrals from those friendships is the absolute biggest compliment ever…the fact that I made a difference in someone's life!