Bravera Bank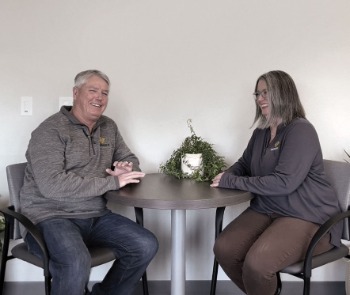 Don Anderson & Jessica Bertelsen
Insurance Advisor Don and Account Manager Jessica work so well together, you may even compare them to chocolate and wine. What makes them work so well together? It may be the 15 years they've worked together that makes them such a great team!
How long have you worked together?
15 tears years.
How does working together help you to better serve customers?
Don:
By combining our insurance experience and perspectives we are able to make sure our clients are properly insured.
Jessica:
Bouncing ideas off each other to make sure we don't miss something,
Who gets to work first in the morning?
Don: Definitely me.
Jessica: Can you repeat the question?
Which one of you keeps everything in line?
Don: No comment...
Jessica: Not Don.
What is the best part of your jobs?
Don: Interacting with our insured customers. 
Jessica: Customers, co-workers, and working at a company like Bravera.