Bravera Bank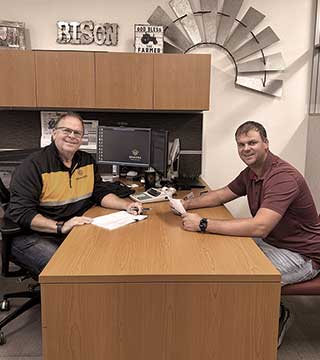 Jeff and Tyler Riedesel
It has been said that thunder and lightning make the perfect storm. Carrington Bravera Insurance advisors Jeff and Tyler Riedesel couldn't agree more. This father and son duo haven't *officially* worked together very long, but they've proven they're a force to be reckoned with when it comes to providing top-notch customer service in their hometown.
How long have you worked together?
Jeff: Since April 2022.
Tyler: Officially since April 15, 2022. Unofficially since September 14, 1987…
How has working together helped you better serve Bravera's customers?
Jeff: Our goal is to provide great customer service. Having two people handle customer needs and prompt communication with them has provided a positive customer experience.
Tyler: It has allowed us to each focus on a role allowing us to meet deadlines a little easier. It also allows us to see more customers each day.
What is it like working with your father? 
Tyler: Every day is a learning curve for both him and I. We both are continuing to find ways that work best for us, along with adapting his style of teaching and my style of learning.
What is it like working with your son? 
Jeff: I get satisfaction from watching him learn and grow, while understanding the business he is getting in to. Watching him interact with customers and being a good listener for them is so important.
What are the best parts of your job? 
Jeff: Being out with our customers. I like to spend time with my customers when I am not necessarily trying to sell them something. Farmers are proud to show off their operations and I like to hear the stories of their farms.
Tyler: Getting to interact with our customers which allows us to understand the best way to meet their needs.
What have you learned from each other?
Jeff: There is more than one way to accomplish a task. We all have different personalities and we can always learn from each other.
Tyler: We are continuously learning each day. Dad is learning how to teach in the world of crop insurance and I am continuously learning by the way he communicates with his customers. His hands-on teaching method is definitely helping make the transition much smoother.
What's your favorite thing about Carrington?
Jeff: Carrington is home. I was born and raised 20 miles northwest in the town of Cathay. Having a son farm there and now a son in the insurance business is awesome. It's fun to watch them grow and learn.
Tyler: It's great to be back in the community that has given me so many opportunities. Being back home allows my wife and I to pay it forward and be active in the community to help provide opportunities to others that were provided for me growing up.
Why lightning and thunder? 

Jeff: I like to do things in a very prompt manner, crack the whip and get your work done yesterday. I like to finish what I started and get on to the next task. Thunder on the other hand can go on for a long time and I look at Tyler's amiable personality and I think that personality is a wonderful trait to have. He can carry on a conversation with anyone.
Tyler: Thunder and lightning has always been a great way to describe our relationship. Every so often, just like fathers and sons do, we butt heads. We talk through it like a flash of lightening and learn from that encounter. I truly feel this helps us grow as not only father and son, but also colleagues and as teacher and student. I truly couldn't have asked for both a better father or a teacher and am grateful to work beside him.
Bravera Insurance is an equal opportunity provider. Products and services offered through Bravera Insurance are: * Not a deposit * Not FDIC insured * Not insured by any federal government agency * Not financial institution guaranteed