Bravera Bank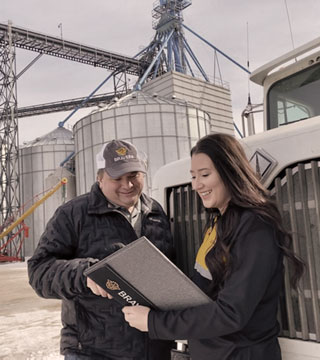 Don Weidner & Keylee Staigle
McClusky Ag Banking Officer Don Weidner and Underwood Ag Banking Officer Keylee Staigle may be compared to sugar and spice...but which is which? Either way this pair's ag background makes them a great resource for farmers and ranchers alike. 
How long have you worked together?
Two years. 
What have you learned from each other? 
Don: I am always learning fun, little techy things from Keylee but I don't think she knows I am paying attention. 
Keylee: Don is very knowledgeable and has been a great help to me in my start to lending. Having grown up and worked in the ag industry for a number of years, he has a wealth of information that I am always tapping into. He enjoys his job and makes it easy for those around him to enjoy theirs as well. 
Red or green tractors?
Don: Green (but not AGCO colors). I didn't know there were options.
Keylee: Green, for sure!
What is the best part about your job? 
Don: Working with our producers and creating solutions for them and the farm visits. Nothing is better than a farm visit in the summer on a Friday!
Keylee: I love the ability to help farmers and ranchers succeed. Being a partner in their operation is so rewarding and I get to make great relationships along the way. From farm visits and renewals to the customers that just stop into my office to chat, it really makes for an enjoyable work day. I suppose I also enjoy working alongside my coworkers...even Don. 
What makes Bravera a great partner for farmers and ranchers?
Don: Keylee and I have a passion for agriculture and their success is our success.  We go the extra mile to help them achieve that success.
Keylee:
Bravera truly has a great team of lenders that are eager to assist farmers and ranchers in any way possible. Even just from an advising aspect, as I mentioned before, there is so much knowledge amongst the staff that our customers can benefit from. Bravera has numerous products available that can make us a true "one-stop shop."
Bravera Bank is Member FDIC and Equal Housing Lender.