Bravera Bank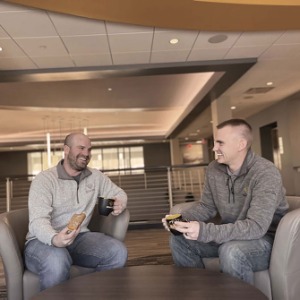 Cory Hauck and Kody Harper
Insurance Advisor Cory Hauck and Ag Banking Officer Kody Harper go together like coffee and donuts, making an excellent team to serve your ag banking and insurance needs.
How long have you worked together?
One year.
What do you do for fun at work?
Cory: Have conversations and connect with coworkers. 
Kody: Typically, it's a conversation between us that contains plenty of laughs and usually ends up containing a joke being directed at one another.
What have you learned from each other?
Cory: I've learned plenty from Kody. Starting with the technical side on how to use certain programs to how to be a better advisor for our Bravera customers.
Kody: Thanks to Cory's knowledge and personal experiences within his own operation, he brings a different viewpoint and opinion on various topics. Those experiences have contributed to some great discussions held within the Ag Department that have helped our team grow and develop so we can advise our customers on best decisions for their own operation. 
Who is funnier?
Cory: I'm funnier (in my own mind).
Kody: It depends on who you ask. I think we both have valid arguments! Just don't ask Cory to tell dad jokes…
What do you enjoy most about working in our Ag departments?
Cory: I
enjoy getting to work with farmers and ranchers and protecting what they have worked hard to build.
Kody: Not one day is the same and I truly enjoy every client and colleague I have the privilege to work with.  Every operation is different and the strength of our team allows us to do the best for our customers.