Bravera Bank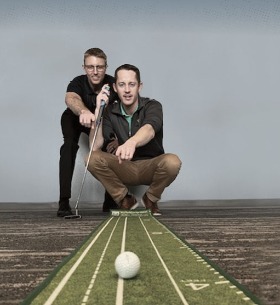 Brady Boese and Jordan Berglund
Dickinson Insurance Advisor Brady Boese and Bismarck Insurance Advisor Jordan Berglund work together as well as a golfer and his caddie...
How long have you worked together?
Nine months. 
What makes you such a great team?
Brady: We communicate very well - we're honest and transparent with each other and our customers. 
Jordan: We both enjoy sharing knowledge and continuing to grow and serve our customers. 
Who gets to work earlier?
Brady: Jordan gets an unfair advantage because he works in Central time.
Jordan: Probably me...
Who is the better golfer?
Brady: The caddie (Jordan)
Jordan: Definitely me. 
What is your favorite part about your job? 
Brady: Building relationships with accounts, coworkers and the community. 
Jordan: Getting to know all of the different businesses we insure. It could be taxidermy one day and an orthodontist's office the next!
How does working  together across markets make the Bravera team stronger?
Brady: Although we are set up to serve customers in the communities we work in, it's great to have resources from other markets that can help give a different point of view and bring different experiences to the table.
Jordan: Anytime we have the opportunity to broaden our resources to better serve our customers is a great thing. Having trusted advisors in multiple markets gives us the opportunity to provide the best service regardless of location. 
Bravera Insurance is an equal opportunity provider. Products and services offered through Bravera Insurance are: * Not a deposit * Not FDIC insured * Not insured by any federal government agency * Not financial institution guaranteed