Bravera Bank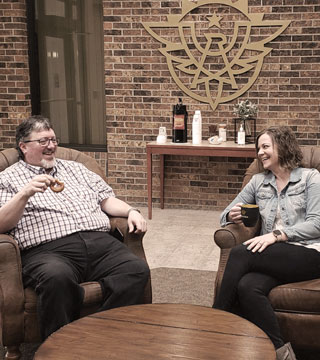 Doug Petersen & Brittany Olson
Finley Insurance Producer Doug found a new dynamic partnership with Finley Account Manager Brittany after his former colleague retired last year. Having grown up with Brittany's parents and knowing Brittany since she was born, this small town bond transitioned into a great working relationship. One may even compare it to coffee and donuts...after all, Brittany loves her coffee and donuts are a fan favorite.
How long have you worked together?
Four months.
What have you learned from each other in this short time?
Doug: Brittany came to our agency with Epic experience and has been a huge asset with our transition to the new management system.  She is hard worker, dependable and brings a fresh energy to our agency.
Brittany: Doug has an awesome, fun personality and knows how to handle any situation. I enjoy listening to Doug talk to customers about different coverages. He is so knowledgeable in the insurance industry with his many years of experience. I look forward to continue to work closely with him to best serve our customers and their insurance needs.
What do you love about the Finley community?
Doug: This is where I was born and raised. I enjoy working with people I have known all my life.
Brittany: We have a very supportive, friendly & giving community.
What is your favorite kind of donut?
Doug: Sugar donuts.
Brittany: Long Johns.
What makes Bravera a great partner for customers?
Doug: Bravera has given us an opportunity to work with several more companies, allowing us to provide the best coverage for our customers.
Brittany: Bravera has every department from banking to insurance and wealth management. We have a great team of professionals to serve our customers with whatever their needs may be. 
Bravera Bank is Member FDIC. 
Bravera Insurance is an equal opportunity provider. Products and services offered through Bravera Insurance are: * Not a deposit * Not FDIC insured * Not insured by any federal government agency * Not financial institution guaranteed