Bravera Bank
Intern Spotlight: Mason Hedberg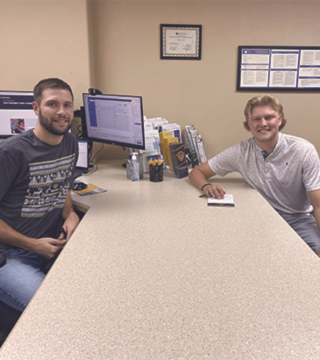 Mason Hedberg joined the Bravera Wealth team in Minot as an intern on May 15, 2023. Mason is currently pursuing a degree in business management and finance at Minot State University. In 2022, he obtained his real estate license and gained experience working with 701 Realty in Minot. As an intern at Bravera Wealth, Mason has actively participated in a diverse range of projects and has closely collaborated with Cole Lauinger, his direct supervisor in the Minot office.
What sparked your interest in pursuing an internship with Bravera?
My interest in interning with Bravera stemmed from recognizing an exciting opportunity to be part of a growing company. I also had the advantage of knowing some individuals working in the Minot office, which made me feel at ease right from the start.
What valuable knowledge have you acquired during your internship?
I've gained a wealth of knowledge since I began my journey with Bravera. Cole has been instrumental in guiding me through the daily operations and has been exceptionally patient and supportive in the process.
What has been the most fulfilling aspect of your internship experience?
For me, the most rewarding aspect of my internship has been the chance to meet a multitude of new people and cultivate meaningful relationships. Everyone I've encountered during this experience has been incredibly friendly and willing to assist with any and all inquiries.
What advice would you offer to a student contemplating an internship with Bravera?
To any student contemplating an internship with Bravera, I would wholeheartedly encourage you to go for it. The company is incredibly welcoming, and there are numerous departments to explore, allowing you to discover where your strengths and interests align best.