Bravera Bank
Intern Spotlight: Madison Bohn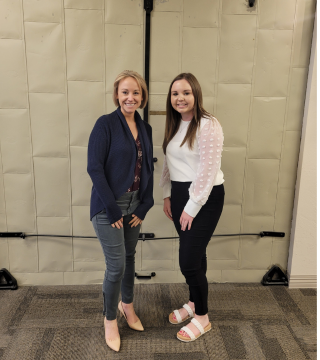 Madison Bohn joined the Audit and Risk Management department in  May as an intern. She is currently attending the University of Mary, studying business administration and marketing, graduating in December 2023. Pictured is Madison, right, with her mentor Steph Bohn, left. Here is what Madison had to say about her internship:
What drew you to apply for an internship with Bravera?
I had heard great things about Bravera and have always wanted to work in a bank. Bravera was able to provide flexibility with my school schedule and allow me to rotate between the different departments I was interested in.
What knowledge have you gained from your internship?
I have learned what each department within Audit and Risk Management does and some of the procedures that they use to keep customer information safe and sound. I have gotten to work on various projects for the different departments and my internship has just started!
What has been the most rewarding part of your internship?
The most rewarding part of my job is getting to help all of the departments within Risk Management keep customer information safe, as well as work with some amazing people!
What would you say to a student who is thinking about completing an internship with Bravera?
If you are looking to gain hands-on experience, then Bravera is the place for you! When you intern at Bravera, you really feel a part of the team. If the department you start out in isn't a right fit, there are opportunities to work in other departments.