Bravera Bank
Intern Spotlight: Colton Mork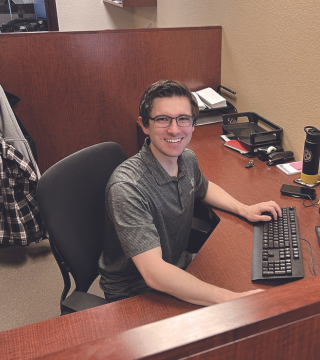 Colton Mork, an intern learning about Bravera Retirement Plan Services, has been hard at work with the team in Bismarck, N.D. Here's what he had to say about his time with us.
What drew you to apply for an internship with Bravera?
I was initially intrigued by the position's title, as I am interested in pursuing a career in the financial and investing realm. After reading the description of the Retirement Planning section, I felt it aligned with my career goals, prompting me to apply.
What have you discovered about Bravera during your internship?
Prior to my internship, I knew little about Bravera, other than its recent name change and its status as a bank. However, I have since learned that Bravera is a community-oriented organization that prides itself on its local roots. The company places a premium on providing clients with prompt and responsive service, without the need for prolonged hold times or frustrating prompts. Additionally, Bravera is committed to giving back to the community, which is impressive for a company to prioritize to this extent.
What different things have you been doing in your internship in Wealth?
Although I am in the RPS section here in the wealth department, I have been exploring all areas like investing, trust, and have even seen what the CFO does. So, I have done all sorts of things from sending out statements and helping with 401(k) distributions and loans, to learning about what the other areas of wealth do and have even sat in some meetings and just today went out to client meetings to review their 401(k)'s performance and see if they want to make any changes.
What is your favorite thing about your internship so far?
Besides the people here, my favorite thing is that I can sit in with all different areas of Wealth and am not just stuck at one area. This allows me to narrow down what exact career path I want to follow as well as learn a lot more than I thought I would.
Would you recommend an internship at Bravera to other students and why?
I would absolutely recommend an internship here to other students. Not only do the people here make you feel like you are really part of the team, but they also make sure that I can get the most out of this experience. Another reason I would recommend it is because I am put in so many different areas so that I am able to really soak in all that a wealth department has to offer and get a well-rounded experience for the future. Overall, my internship here has been going great and I am excited to learn even more.