Bravera Bank
Intern Spotlight: Calder Ludvigson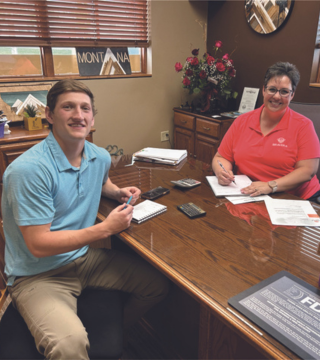 Calder Ludvigson joined the team in Great Falls, Montana, in May as a lending intern. He is currently enrolled at Brigham Young University–Idaho, studying agribusiness. His internship with Bravera has involved working with his mentor, Erin Townsend, to learn about business and agricultural banking, as well as collaborating with the Loan Assistants and Relationship Bankers to enhance his general knowledge of banking. Here's what he had to say about his time with Bravera:
What sparked your interest in pursuing an internship with Bravera? 
My fascination with the banking industry was ignited by my father, an ag lender who instilled in me the understanding that financing is a fundamental pillar for the success of numerous endeavors in life. This seed of curiosity planted by my father sprouted into a genuine desire to expand my knowledge in the realm of banking. Having been a customer at Prairie Mountain Bank throughout high school, I became familiar with the name when Bravera acquired it. As a college junior last fall, I embarked on the journey of applying for internships across the Western United States. By chance, while browsing LinkedIn one day, I came across a post announcing Bravera's hiring in Great Falls, Montana. Intrigued, I left a comment inquiring about internship opportunities in that location. Little did I anticipate that HR would personally reach out to me through LinkedIn, extending an invitation to interview for an internship. With due diligence, I conducted comprehensive research on Bravera, and without hesitation, I recognized the invaluable experience they would offer me. 
What knowledge have you gained from your internship?
Throughout my internship, I have acquired a wealth of valuable knowledge that has truly transformed my perspective. I have developed proficiency in using various computer programs and honed my skills in creating comprehensive credit presentations. The experience has been an immersive learning journey, offering abundant opportunities for growth. A key lesson that has resonated with me is the significance of taking timely action. Regardless of our goals or reminders, it is crucial to seize the present moment to drive progress and achieve success.
What has been the most rewarding part of your internship?
Undoubtedly, the most fulfilling aspect of my internship has been collaborating with an exceptional team to help customers realize their aspirations, dreams, and goals. Witnessing the positive impact we can make together has been immensely gratifying. The collective effort and dedication we put forth have enabled us to create meaningful outcomes and empower individuals in their financial journeys.