Bravera Bank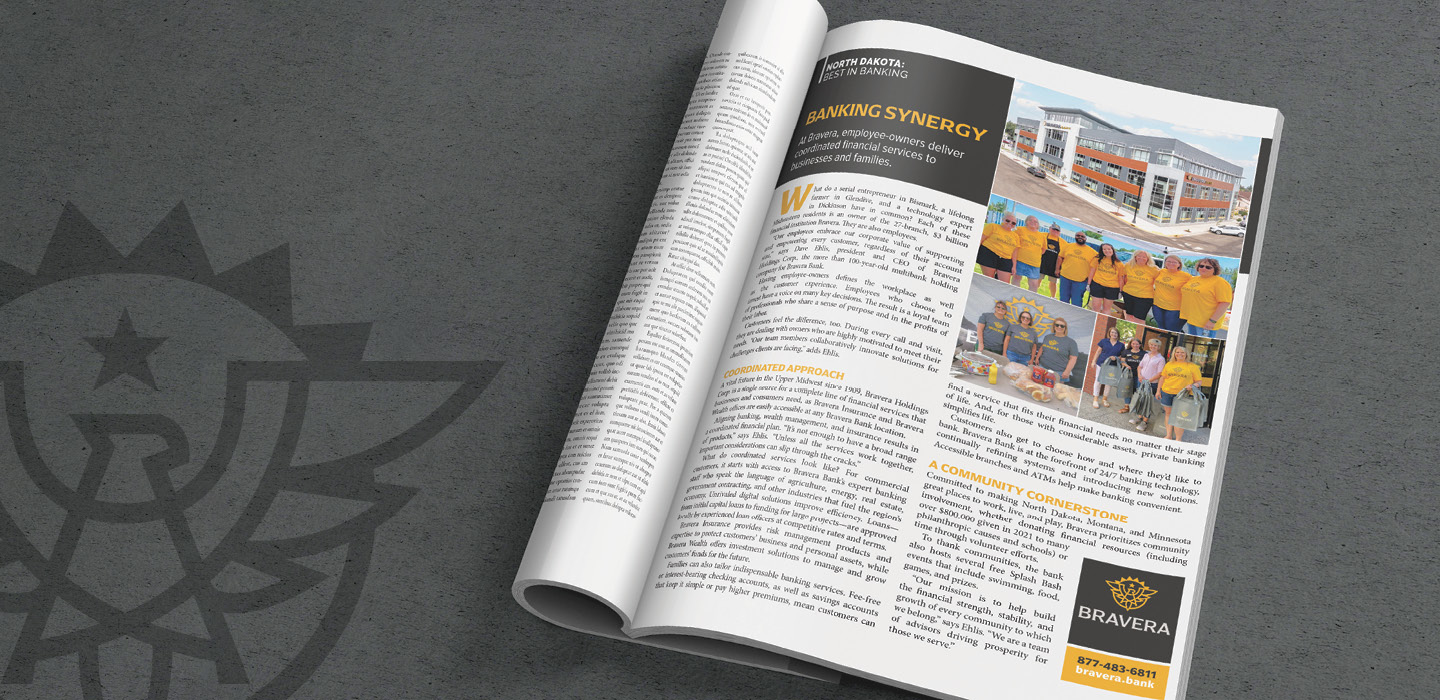 As Seen in Forbes and Fortune
Banking Synergy
At Bravera, employee-owners deliver coordinated financial services to businesses and families. What do a serial entrepreneur in Bismark, a lifelong farmer in Glendive, and a technology expert in Dickinson have in common? Each of these Midwestern residents is an owner of the 27-branch, $3 billion financial institution Bravera. They are also employees.
"Our employees embrace our corporate value of supporting and empowering every customer, regardless of their account size," says Dave Ehlis, president and CEO of Bravera Holdings Corp., the more than 100-year-old multibank holding company for Bravera Bank.
Having employee-owners defines the workplace as well as the customer experience. Employees who choose to invest have a voice on many key decisions. The result is a loyal team of professionals who share a sense of purpose and in the profits of their labor.
Customers feel the difference, too. During every call and visit, they are dealing with owners who are highly motivated to meet their needs. "Our team members collaboratively innovate solutions for challenges clients are facing," adds Ehlis. 
Coordinated Approach
A vital fixture in the Upper Midwest since 1909, Bravera Holdings Corp. is a single source for a complete line of financial services that businesses and consumers need, as Bravera Insurance and Bravera Wealth offices are easily accessible at any Bravera Bank location.
Aligning banking, wealth management, and insurance results in a coordinated financial plan. "It's not enough to have a broad range of products," says Ehlis. "Unless all the services work together, important considerations can slip through the cracks."
What do coordinated services look like? For commercial customers, it starts with access to Bravera Bank's expert banking staff who speak the language of agriculture, energy, real estate, government contracting, and other industries that fuel the region's economy. Unrivaled digital solutions improve efficiency. Loans—from initial capital loans to funding for large projects—are approved locally by experienced loan officers at competitive rates and terms.
Bravera Insurance provides risk management products and expertise to protect customers' business and personal assets, while Bravera Wealth offers investment solutions to manage and grow customers' funds for the future.
Families can also tailor indispensable banking services. Fee-free or interest-bearing checking accounts, as well as savings accounts that keep it simple or pay higher premiums, mean customers can find a service that fits their financial needs no matter their stage of life. And, for those with considerable assets, private banking simplifies life.
Customers also get to choose how and where they'd like to bank. Bravera Bank is at the forefront of 24/7 banking technology, continually refining systems and introducing new solutions. Accessible branches and ATMs help make banking convenient.
A Community Cornerstone
Committed to making North Dakota, Montana, and Minnesota great places to work, live, and play, Bravera prioritizes community involvement, whether donating financial resources (including over $800,000 given in 2021 to many philanthropic causes and schools) or time through volunteer efforts.
To thank communities, the bank also hosts several free Splash Bash events that include swimming, food, games, and prizes.
"Our mission is to help build the financial strength, stability, and growth of every community to which we belong," says Ehlis. "We are a team of advisors driving prosperity for those we serve."