Bravera Bank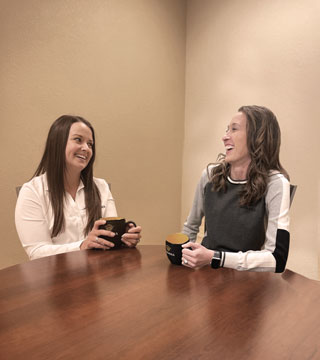 Renae Kondos and Courtney Berger
Coffee and creamer may be the best way to tackle your morning. But Bismarck Retirement Plan Advisors Renae Kondos and Courtney Berger are a close second. From wrangling their sloths...we mean kids... in the morning to singing while getting ready, this dynamic duo helps makes mornings better at Bravera.
How long have you worked together?
About 1.5 years. 
How has working together helped you better serve Bravera's customers? 
Renae:
I love the fact that we help teach business owners and their employees the importance of retirement plans. It is such a great benefit for both business owners and employees. It's also rewarding to help clients succeed in retirement planning.
Courtney:
We are always bouncing new ideas off each other to better our team. We also work hand in hand in
assisting
clients and if one of us is unavailable, a client can be helped by either one of us.  
What are the best parts of your jobs? 
Renae: I love getting out of the office and meeting with clients. It's so fun to work with all ages, from those starting their first retirement plans to those entering into retirement!
Courtney: The company culture at Bravera and the collaboration within our Bravera Wealth team are great. I also enjoy having flexibility to keep a work-life balance. Building and maintaining client relationships that turn into friendships is also a plus. 
Who gets to work first in the morning?
Renae: I
believe we can say our children (sometimes sloths) help determine this in the mornings!
Courtney: Well, that all depends on whose children are cooperative that morning and which one of us doesn't hit a curb coming in hot to work.
Speaking of mornings...how do you like your coffee?
Renae: I'll drink almost any coffee, but my favorite is cold brew coffee with a splash of milk and cinnamon.
Courtney:
No matter how cold the weather gets you will always see me with an iced latte in hand.
Finally, who is the better singer? 
Renae: Well, I'm a pretty good singer in the shower but otherwise I'd have to say Courtney (if she's had enough coffee)!
Courtney:
You definitely won't see me at karaoke night, however when I'm alone in my car I'm pretty confident I can belt out some "Don't Stop Believing" pretty well. I'm sure Renae has me beat on any other jingle. 
Products and services offered through Bravera Wealth are: * Not a deposit * Not FDIC Insured * Not Insured by any federal government agency * Not financial institution guaranteed and may be subject to investment risk, including loss of principal amount invested.