Bravera Bank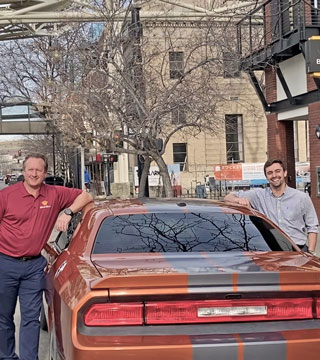 Jay Graves and Tanner Bollum
Just as a motor needs oil to run, Billings Business Banking Officers Tanner Bollum and Jay Graves work best together. Avid runners and Downtown Billings devotees, Tanner and Jay discuss about who can run faster and which downtown restaurants are their favorites. 
How long have you worked together?
Since May 2021, just one week before opening the Downtown Billings branch.
How does working together help you to better serve your customers? 
We have the ability to approach problems with two separate lenses. With different approaches and backgrounds, we are better able to serve customers by providing solutions not previously thought of. Since there are two of us, we are also able to serve multiple customers at a time.
Who is a faster runner?
While Jay has a few years on Tanner, he swears that back in his prime he could win an 800 meter race. Tanner thinks it would be close.
What is the best part about your job? 
We get the opportunity to work with amazing business men and women from all over Montana. Our customers really make our job fun and interesting. Getting a chance to see so many businesses from a view point that very few individuals get to see is really rewarding.
What is your favorite thing about Downtown Billings?
Downtown Billings is a really fun place to work and do business. We have dozens of great restaurants to try out and many events to look forward to. The bank's second story balcony reaches out above Broadway Street and gives us an amazing view for parades and car shows. In summer evenings Billings hosts the music event "Alive at 5" right at our front door. Jay always reminds customers that the Burger Dive is only 57 steps away from his office and features television famous burgers. Tanner, on the other hand, prefers the even shorter walk to the Brew Pub for the Friday fish and chips special.
Bravera Bank is Member FDIC and Equal Housing Lender.